We are pleased to announce the availability of Tina (Time Navigator) v.4.6.3 with some great new features delivering increased performance and security.
More details below.

Tina version 4.6.3 - Key Features
Increased deduplication performance

.

Virtual machine backups now run up to 5 times faster with HVDS-2.
Increased security with HVDS-2

.

Automatic replication between sites for DRPs (Disaster Recovery Plans).
Increased compatibility. Tina supports the leading operating systems and critical applications, and continues to protect legacy platforms too.
This version also delivers specific Web administration interface enhancements and tagging capability for backup administrators protecting VMs, as well as new agents.
Web administration eNHANCEMENTs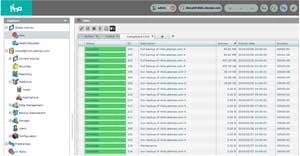 We are pleased to incorporate the following modifications into the Tina 4.6.3 Web Interface:
Click on the image to view the HD version
New colours and adjustments to give a new look and feel

Unmasked password using the "eye"

Show the number of alarms against items in the UI

Wizards to guide you from the initial configuration to your first successful backup.
HVA FOR VMWARE – SUPPORT FOR VM TAGS

Administrators like to categorize in their virtual environment and need to filter VM's by using tags. Tina now provides the option to filter by category, such as the operating system or by the tag name.
FASTER DEDUPLICATED BACKUPS WITH HVDS-V2
Tina 4.6.3 agents are fully compatible with new Deduplication Storage (HVDS-V2) and performance is optimized for virtualized backups that now run up to 5 times faster when HVDS-V2 is the target. When high availability is required, HVDS-V2 replication provides the ultimate solution. Restore will transparently recover data from the nearest replica to ensure the fastest possible route for restored data.
NEW AGENTS / OPERATING SYSTEM SUPPORT
Tina 4.6.3 now includes support for the following agents:
AIX 7.2 with DB2
AIX 7.2 with Oracle 12 R2
MariaDB
IBM TS1160
***
Our customers' feedback helps us to improve our products. Please do continue to share!