MIRIA 2021 R2 - VACCINATE YOUR CRITICAL UNSTRUCTURED DATA!
2021 has been an exceptional year for Miria and we're very proud of the excellent feedback the solution is receiving from our customers and partners. 2022 will be a great year too but more on that later... Let's have a quick focus on the latest release: Miria 2021 R2.
***
SECURITY - S3 OBJECT LOCK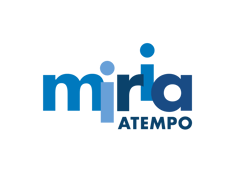 Have you noticed how much the data protection conversations are revolving around these concepts: immutability, hardened data storages, air gaps... All are crucial in our ongoing battle against ransomware and other cybercriminal activity.
Miria 2021 R2 enables an S3 Object Lock feature to ensure backup repositories remain inalterable.
Why should I activate this feature?
For data governance reasons. For example, to prevent unintended data deletion.
For data compliance

reasons

. If an organization is subject to certain regulations on how long data must be stored and unmodified.
For security reasons. Miria prevents your data from being corrupted during a ransomware attack

.
Because a film is worth a thousand words, check out this short video on how to configure Miria to use S3 Object Lock:
***
WEB USER INTERFACEs - backup
Miria's facelift continues with the Miria for Backup pillar now fully transposed to modern and ergonomic interfaces. Creating pertinent backup policies and tasks is now effortless.
Our R&D teams are (justifiably) proud of this facelift. We're convinced that you'll soon be converted to these interfaces for their simplicity, range and depth.
A short video tour of Miria backup and tiering interfaces:
***
NOT FORGETTING SNAPSTOR AND MIRIA FOR ANALYTICS...
Miria 2021 R2 is of course home to the latest features of our data management platform. Snapstor enables DR (Disaster Recovery) for very large storage volumes. Because business continuity is essential, replicated snapshots allow users to recover data and file shares as they were just before an incident. Snapstor allows rapid business recovery, and minimal production downtime. The focus here is to reach the Recovery Time Objective (RTO).
2021 has been a landmark year for Miria, notably as we launched the 5th Pillar: Miria for Analytics. There has been plenty of excitement over how Analytics is already helping our customers x-ray their data, locate cold data and use Miria to adjust storage usage and start to seriously reduce TCO.
***
Like to learn more?
Atempo teams organize regular sessions to present our solutions and discuss with customers, prospects, and partners. Two upcoming sessions are planned early 2022 that will give you a solid overview of Miria in its present and future iterations.
Please click one of these links to join us:
Session #1: Thursday, 20th January 2022: 10am PST, 12pm CST, 1pm EST, 6pm GMT
Session #2: Thursday, 3rd February 2022: 10am PST, 12pm CST, 1pm EST, 6pm GMT