The Cloud in all directions !
Miria 2020 is released this week and to mark the occasion we spoke to Louis Laszlo (Director of Product Management) about how Miria is evolving and how the solution is responding to customer data protection and data movement needs.
***
Ok Louis, give us the big picture on Miria 2020. What's new with this major version release?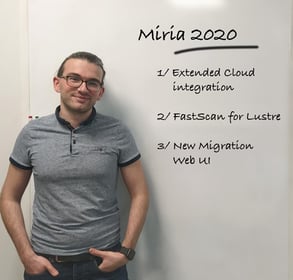 The driving force behind Miria 2020 is its extended and powerful cloud integration. The storage landscape over the past 5 years or so has seen massive uptake in Cloud storage provision. The future will not necessarily see firms going back entirely to on-prem storage but we know that our customers will look to Miria to migrate data back from the cloud to on-prem or simply switch to a new cloud provider. I say simply, but in reality moving hundreds of TBs or more between clouds is complicated and can also be very expensive. Let's not forget that Miria is a technological solution that also leverages massive ROI.
Another key feature is our integration of FastScan functionality for our Lustre customers operating in very high volume HPC environments. The ability to track changes in Lustre file systems is unique to Miria and will make waves as an industry first by enabling large scale Lustre file backups for the first time.
In 2020, our customers have seen a minor revolution of our user and admin interfaces. The last version saw the much appreciated roll out of our Migration interfaces. This version adds archiving with backup to follow. We're very proud of all the work put into the solution front and back ends.
***
Let's zoom in on Miria's Cloud Migration capacities. Tell us a little more about the various use cases.
The first use case is Cloud to Cloud migrations. The reasons for switching to a new cloud can be numerous: storage and egress costs, cloud provider localization, data management efficiency or a need for different services. There's now no reason to be stuck with a cloud provider if a change will benefit your business and workflows. Miria 2020 can read from the source Cloud S3 and handle the file migration process fully and safely to the new destination.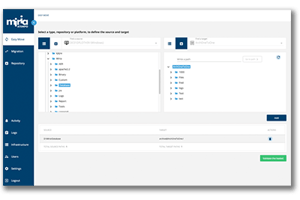 Another frequent use case is the need to return data from the cloud to an on-prem location (tape, disk, hybrid cloud). What we call Reverse-Cloud is a key new feature and very much part of Miria's DNA. Although the public cloud is here to stay, the need for on-prem storage is ever-present; regulatory issues, data governance, economic factors combine to make on-prem necessary for partial or complete data set storage.
And of course, Miria remains a market-leading on-prem to Cloud migration tool. Moving data fast and reliably between different storages -both on time and on budget- is basically what Miria does best!
***
In terms of backup and archiving features, what can you tell our clients and partners?
I'm excited to be able to announce a feature that has been the subject of so many requests: the ability to backup the content of an object storage platform. This is a BIG request from both ours customers and ours partners. Many customers have these huge high performance Object Storages that they use to store very large volumes of data. They have this natural need or even sometimes the necessity to comply with regulation regarding data protection within these Object Storages.
With Miria 2020, we now have the perfect solution for the backup of Object Storage content as Miria is now able to collect data on any S3 compatible storage and to deliver data backup or data archiving to the target storage of their choice with all the scalability and the high performances that are Miria's trademark.
I'm also excited by another big evolution of Miria that relates to our Lustre support.
***
Y

es, you mentioned earlier this new FastScan capacities for Lustre. What is at stake here?
Lustre shared filesystem are often used in HPC environments or similar, they are complex storage environments made of multiple nodes in hierarchy. One of the big challenges of performing data management (backup, archiving, data migration) on a Lustre cluster consists in identifying and collecting the list of new and changed files on the Lustre nodes. If many NAS platforms collect lists of new and changed files, no such service is available on Lustre today.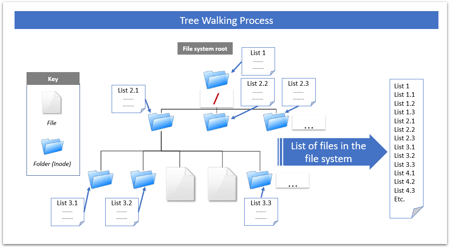 When such a service is not available, traditional data movement solutions go back to basics: they "walk"
the filesystem ("tree walk") in order to identify changes. This procedure is not applicable on a Lustre filesystem as is it a very lengthy and heavy process which will often exceed most backup windows.
Backup or storage admins are then faced with making difficult choices for protecting or moving only a part of their data in the time slot available.
The idea developed by the Atempo team for Luster is simple: it consists in developing the core mechanism for collecting changes and offering the service to Miria Data Management components. This is the new FastScan Server component collects all incremental data movement tasks in the filesystem and is questioned by Miria to obtain files created / modified / deleted, avoiding unnecessary full filesystem scans.
The result is a very efficient archiving, backup or migration capability for protecting large volumes of data stored using Lustre or EXAScaler platforms. Typical use cases for this new capability are:
Backup and/or Archiving data from Lustre/EXAScaler,

Migration of large data sets between Lustre/EXAScaler platforms,
Synchronizing or replicating data sets between two or more Lustre/EXAScaler volumes for disaster recovery.



***
A Conclusion?
We work very closely on the quality of our technological alliances with major storage vendors. These partnerships drive the developments and enhancements in Miria. This version, which embraces key Cloud and HPC workflows, will seal Miria's position as an industry-leading solution for all major data migration, archive and backup projects.
Still time to enroll in our Miria 2020 webinar on Thursday, 3rd December: