Tina provides a comprehensive, robust, and flexible solutions to protect your Microsoft 365 environment.
Its granular data protection across Exchange Online, SharePoint Online, OneDrive, Teams, OneNote and Groups address all accidental deletion use cases. Granular search with flexible point-in-time, in-place, out-of-place and local restore options enable accurate recovery for all deleted items from authorized users.
Tina is built on a Linux kernel and is secure by design. It combines the best of data protection and storage security enabling backup rules such as "3-2-1" Immutable and air-gapped backups safeguard against ransomware, accidental deletion, data corruption, and cybercriminal attacks.
The 3-2-1 rule is a basic rule of data protection. The rule states that at least three copies of each file should exist. They should be stored on two different types of media (LTO tape, HDD, SSD, Cloud). One of the copies must be stored off-site for maximum security. Tina provides the flexibility to apply this rule whatever the infrastructure.
The highly flexible architecture of Tina not only answers security threats, legal and compliance matters and retention times. The solution also optimizes data storage with built-in deduplication and compression. It effectively manages retention periods with a wide range of backup and archive destinations including sovereign storage targets.
Tina for Microsoft 365 for comprehensive backup, storage, and recovery.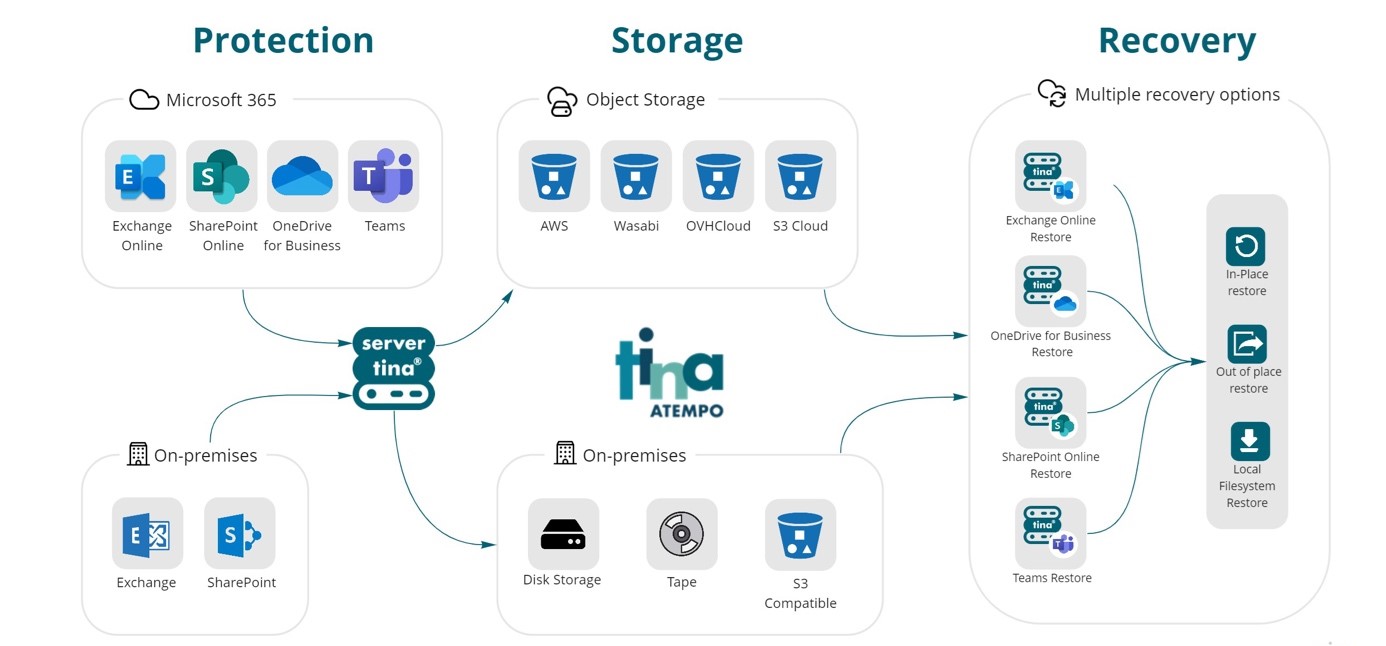 KEY FEATURES
Respecting Vendor Standards

:

Atempo technology ensures data is managed in line with vendor standards guaranteeing protection and recovery. We respect Microsoft recommendations by using the latest APIs to back up and restore data from the Microsoft 365 Tenant. Tina only uses Microsoft Graph APIs and not EWS APIs according to Microsoft's recommendations.



Data Conservation on Tape for Long Term Air-Gapped Protection

: Even deduplicated data can be saved to tape. To ensure every restore job is successful, the data is rehydrated from tape to the destination. And once data is on tape, you are sure your data sets are physically out of reach of cybercriminals!



Various backup location

:

Relying on the wide possibilities offered by Tina backup, users can

store

their M365 files

to a variety of media.

It

is possible to use the advantages of backing it up

on-premises

but also to the cloud. Tina for M365 backs up to disk, tape or S3-type on-site storage. To benefit from the price advantages of backing it up in the cloud, Tina for M365 also allows you to store your backups in the various generic S3 buckets. You can use AWS, Wasabi or OVH as object storage in the cloud.



Optimal Deduplication

: Tina provides industry-leading backup speeds and reduced storage for backup volumes.
Advantageous License Models to Fit Business Needs

: Tina's flexible licensing schemes plug right into your business. With data volumes increasing all the time, additional licenses can be required to protect a growing and changing IT infrastructure. With Atempo's vertical licensing, you get all the backup for your local and Microsoft 365 infrastructure with no extra cost unlike the competition who have an expensive licensing per user per month for Microsoft 365.
Adoption to collaborative tools such as Microsoft Teams is critical for companies as it is an enabler for hybrid work scenarios that are dramatically accelerating since the start of the pandemic. Yet customers need to keep their data safely stored, properly managed and accessible anytime on their preferred storage beyond the Microsoft 365 public Cloud.
Tina is the safest, most user friendly and flexible solution to back up Microsoft 365 data respecting security best practices and accommodating every customer need.
Read the first part of this M365 blog series.
To contact an Atempo expert to discuss your M365 protection needs, please click on this button:
Download the PDF version by clicking here.