4 questions for Bernard Peultier our VP Innovation and CEO of Nextino, the all-new research lab created last January

Why did Atempo decide to create a research laboratory for applied Artificial Intelligence for data storage?
Unstructured data volumes increase 10 times faster than structured data. According to IDC, we will pass from 33 zettabytes in 2018 to 175 zettabytes by 2025.
This exponential data growth impacts all companies in the form of fragmented storage and the multiplication of in-company heterogeneous storages, the multiplication of remote sites and also cloud storages.
The growing number of storages and storage locations will also require us to move data with resulting time and infrastructure and cost constraints.
Organizations are more than ever on the lookout for a consolidated vision of their data and new solutions to manage storages while keeping infrastructure costs down to a minimum.
Introducing Artificial Intelligence (AI) will enable us to make sense of this heterogeneity and provide new services: predict storage usages and costs, automatization data movement etc.
AI to manage storages: science fiction or reality?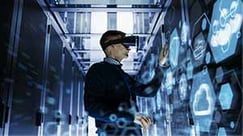 What is fascinating is that we are not talking about a long-term future. AI tools, Machine Learning, computing power and advanced storage technologies are here today. We use them and enrich them constantly.

When Gartner talks about Augmented Data Management (ADM), they are referring to the first data management software applications capable of self-tuning and automatically refining their configuration.

Gartner predicts that ADM software production will be a reality within 2 years and that "manual data management tasks will be reduced by 45%". Atempo plan to deliver the first applications by the end of the year.
What is Augmented Data Management according to Atempo?
Atempo has a reputation for handling and managing unstructured data: copy, backup/restoration, synchronization or migration, archiving.
We remain at the forefront of advanced heterogeneous storage management with the ability to move massive data sets between a wide variety of sources and destinations.
Many of our customers need to regularly change their data storage workflows to adapt to growing volumes or specific professional constraints.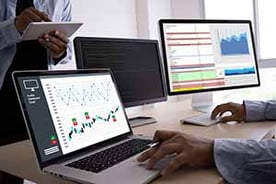 By analyzing the data, its history and its movements and access, Augmented Data Management will allow our solutions to automatically learn about each client's requirements and behavior and adapt workflow configurations in real time.
Our objective is that the analytical pilot improves data flow and storage movement. As with popular satnav tools such as Waze which improves with constant usage, so will storage management receive a significant boost thanks to Augmented Analytics.
The aim is to ensure each company has a consolidated vision of its data and can answer these types of questions:
- Where is any given file?
- How many identical versions do we have of this file?
- What is the occupation rate of all the storage supports?
But this is only the start. Our clients demand solutions that will help improve their visibility and control storage costs in an age when there is an increased mix of on-premise and off-premise or cloud storages.
When is the first version going to be available?
Our teams at NextIno have the following objective: deliver the first application in 2021. It will enable the self-tuning of our Data Movers in the specific context of each client and each site.
We have recruited sites to beta test the first versions of our analytical tool: these varied environments will provide important feedback to enable us to address a wide variety of infrastructures.
***
Learn more in this blog post: