Atempo is delighted to announce full support and compatibility for Rocky Linux distributions. Rocky Linux has been gaining traction over the past year with many former CentOS users among those opting to deploy this community-led OS that is 100% compatible with enterprise Linux. Customers, integrators, and partners are excited by the potential of this powerful platform. Rocky Linux has a wide community of vested individuals who ensure the distribution is stable and production ready.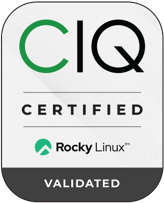 Rocky Linux is proving to be a popular choice for users in high-data and high-compute environments including HPC, AI, ML, Post Production and Analytics. It is, of course, essential for data centric workloads to be able to count on data management solutions that are fully compatible with Rocky Linux. Atempo's data management platform, Miria, is renowned for its extensive compatibility guide. This means organizations have the power to deploy their chosen platform to run data movement and protection applications.

And, as good news rarely comes alone, Atempo can also announce that their entire solution range running on Rocky Linux are fully certified by CIQ, a US-based Linux project and support organization.

We talked to our VP of Product Management, Louis-Frédéric Laszlo about this recent compatibility addition:

Louis, Atempo has added yet another string to its bow with Rocky Linux
For sure. Since its creation, Atempo has always sought to provide the widest possible compatibility for our customers who deploy our data management and protection solutions. Our compatibility guide caters for so many OS platforms including Linux distributions which are frequently deployed to run powerful data centric applications, in HPC and AI environments for example.
What makes Rocky Linux stand out from the crowd?
Rocky Linux is a very promising community-led platform with a rock solid (no pun intended!) uptake. Stability-wise and security-wise, it ticks the right boxes. It has, for example, already gained FIPS 140-3 security validation and a host of major partners (including AWS, Google, VMware…) have widely adopted the platform. What's great is that many of our Miria users have migrated seamlessly and safely from CentOS.
Tell us more about Atempo's CIQ certification
Rocky Linux took its name from the co-founder of CentOS, Rocky McGaugh. The other CentOS co-founder, Gregory Kurtzer, is also co-founder of both CIQ in the US and the creator of Rocky Linux. This is excellent news for our customers who understand the power of open-source communities. I believe Rocky Linux will gain a major and durable foothold in data-centric environments. With CIQ and Atempo, customers can be confident of pertinent support and a stable future for their data management projects.