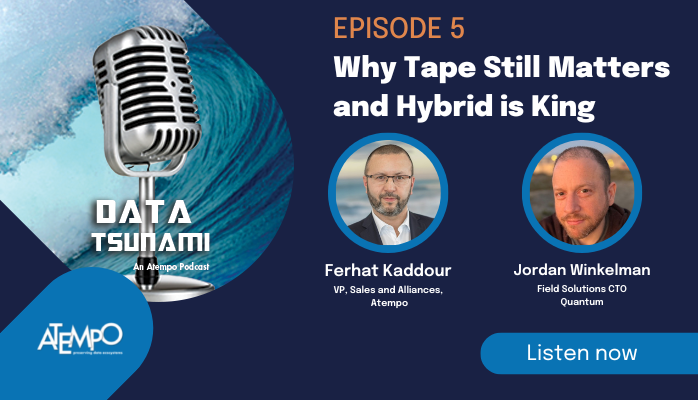 Why tape still matters and hybrid is king
On this episode of Data Tsunami, a Podcast from Atempo, VP of Sales and Alliances, Ferhat Kaddour, sits down with Jordan Winkelman, Field CTO @ Quantum to discuss the continuing significance of tape in managing long-term data storage and the critical need for customers to adopt a hybrid approach to managing data.
For information on Quantum's data protection bundles with Atempo Tina visit, quantum.com/atempo-tina
"Unstructured data growth is out of control. And when you have to hold onto data for compliance reasons or, for any federal requirements, state, local international, for that matter, you have to be able to protect that data for the long-term in a cost-effective manner--which isn't just related to the media. It's related to the power and to the cooling, and to all of the associated factors with data center footprint. Tape allows for extreme density. Extremely low power utilization, extremely low utilization of air conditioning. So it is one of the most environmentally friendly data protection methods that is available today. And that's why all the hyper-scalers use tape for whatever they call deep or cold storage."
--Jordan Winkelman, Field Solutions CTO, Quantum
Watch📺
Listen🔊